2014 Toyota Tundra near Chicago IL
Ready for 2014, the Toyota Tundra is making a big statement. Rugged in every sense of the word, the 2014 Toyota Tundra near Chicago, IL has received some facelifts that set it apart from every other truck on the road. If you are looking to make a statement with your truck, look no further than the new bold and muscular lines of the Tundra. Practically begging for a challenge, the Tundra also sports a new grille that personifies it as one of the most capable trucks on the market. Branded on the rear tailgate, a bold stamping of the word TUNDRA has now been placed on the 2014 models, just in case drivers trying to keep up with you want to know what you're driving.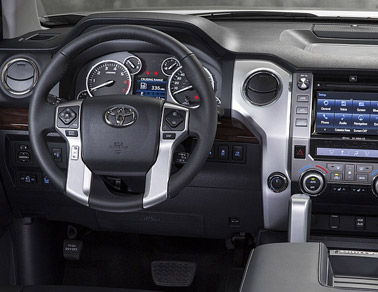 2014 Toyota Tundra near Chicago, IL Engine Performance
Just because a truck looks capable, doesn't mean that it is. Any concerns about this being a problem for the 2014 Toyota Tundra near Chicago, IL can be laid to rest. Either pop the hood or step on the gas pedal, both will have the same effect when you see or feel one of the three Tundra engine options. The 4.0-liter V6 makes 270HP and 278lb-ft of torque while a 4.6-liter V8 provides a bump in both power outputs making 310HP and 327ft-lb of torque. Raising the bar one step further, the 5.7-liter engine creates 381HP and 401ft-lb of torque that is ready to hook up to any trailer or bomb down an off-road trail.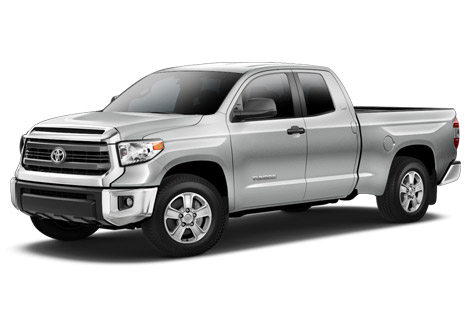 Making Your Life Easier and Safer One Mile at a Time
Like all of the Toyota vehicles, safety and comfort is always standard, which is no different for the 2014 Toyota Tundra near Chicago, IL. Standard backup camera, Star Safety System™, tire pressure monitoring system, and LATCH for child seating all come equipped and can give you the peace of mind that your Tundra is working to protect you. Large interior handles and knobs make every feature of the Tundra easy to operate, especially when wearing gloves, letting you get more done. So are you ready to stand out in the truck-word? If so contact Toyota of River Oaks and be one of the first to own a new 2014 Toyota Tundra.
Schedule Testdrive
Featured Pre-Owned